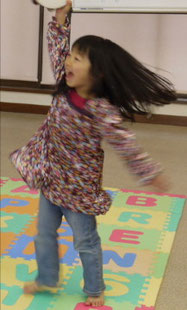 The Power of Music
The easiest way of creating a harmonious balance of the mind and body for young learners  is through music.
In the area of the body, music moves our bodies.  We are the only creatures on the planet that move to the beat of music.  Some birds and animals can be trained in this, but in humans, it is an inborn "gift".    When children incorporate gestures and movement into their learning, they are in the  process of active learning.
In the area of the mind, music can relax us and help us to enjoy learning.  New progressive ideas can flow.  Music-based learning moves us to be more open and positive.  
The word enthusiasm comes from the greek words "en theos", which means in God (in Spirit, in the power of the universe).   We have amazing powers which we can tap into, and music serves as a bridge to help you strengthen and engage these amazing mental powers.
And once again you have become HAPPY (Harmonious, Active, Progressive, Positive You).
The Magic of Music
Music offers an abundance of learning opportunities for youngsters.  When we look at the the word "music", we begin to understand its possibilities.  The most common definition, coined by Edgard Varese, is "organized sound" ; however, the Greek meaning of the word shows the real possibilities of music.  
In ancient Greece, the word mousike was used to mean any of the arts or sciences governed by the Muses.   In the European middle ages, musica was part of the four essential subjects of mathematics.  These four subjects were arithmetic, geometry, music and astronomy.  The preparatory work was grammar, logic and rhetoric (speaking).  These seven arts comprised the liberal arts education of the Renaissance and is the basis of liberal arts education as we know it.  Music was considered to be one of the keys to unlocking the world around them.