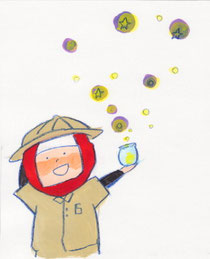 Recipe for a HAPPY Learner
Here is the English Garden's recipe for children who say, "I'M HAPPY".
I

  - Ignite the

I

magination

M

- Mix in the Magic of

M

usic

H

  -

H

ear the Songs while looking at the pictures

A

-  Mix in

A

ctivities that stimulate the mind

P

 

-

P

ronounce It

P - 

 Add in the Spice of

P

erforming it with Gestures

Y

-  Repeat and top it off with related activities until it is

Y

ours
In this blog, we will use these ingredients to explore the concepts of each book.  The activities are varied and can be made age appropriate.  Some activities are designed for children as young as two years of age and some can be enjoyed by children as old as ten.   Please pick and choose the activities that will make Honeysuckle Cottage come alive for your child.
What does a HAPPY Learner look like?
A HAPPY learner can be tall or short, boy or girl, or any nationality.  A Happy Learner is a Harmonious, Active, Progressive, Positive, You! Anyone can become a HAPPY learner at anytime, in any place.
Tomorrow let's explore the Steps to HAPPY Learning.