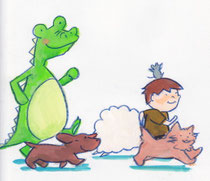 The Steps to HAPPY Learning (I'M HAPPY)
We can start the creative learning engine by engaging the imagination.  Show the children the cover to the book and ask some questions.  
 Mix with the Magic of Music 
Enjoy the rhythm, the instruments and the beat of the music to help your child intuit what the book is about.  
Once their imagination is sparked, let the children hear the song and see the images.  We use our ears to hear, but we think in images.  As the children hear the song, they can understand the meanings of the words through the simple images in the book.  
Young children are naturally active and want to touch things, spin things, open things, and move things.  Each book in Honeysuckle Cottage has a game designed to engage the physical senses and to build learning skills such as memory, deductive thinking, perception, imagination, concentration and predicting.  
The next step is to repeat the key words so that the child knows how to correctly say the key words.   By listening to and repeating the Cool Key Words track,  the child can become familiar with the key words and can start to sing along.

Gestures and movement are a great tool for helping children understand the meanings of the words.  By turning each book into a performance with music, words and movement, confidence is gained and the child learns how to harmonize the mind with the body.  A little performance, which can be as simple as a morning song time, can be a small goal that every child can successfully achieve.
 Yours Through Correct Repeition
We all grow up hearing "Practice makes perfect."  Unfortunately, this is not true.  Practice makes permanent or as the famous football coach, Vince Lombardi said, "Practice does not make perfect.  Only perfect practice makes perfect."  Correct repetition is key to learning any skill whether it be football, playing the piano or learning to read.  By reviewing the music, words, games, and images often and finding creative ways to explore Honeysuckle Cottage,  your child  will be well on his or her way to HAPPY LEARNING THROUGH MUSIC. 
Tomorrow, let's get into How the Happy Learning Process Works.